Intermix.org.uk is a website for the benefit of mixed-race families, individuals and anyone who feels they have a multiracial identity and want to join us.

Our mission is to offer a view of the mixed-race experience, highlighting icons, film, books, poetry, parenting techniques, celebrities, real lives and much more.

Our online forums are a great place to meet others, ask questions, voice your opinions and keep in touch. Sign up for our monthly newsletter and delve into our pages.

Want to join in? Become an Intermix member to take part:




About Us: Welcome to Intermix.org.uk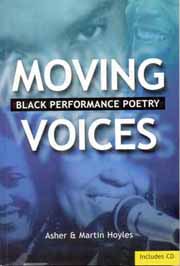 Black Performance Poetry

Hansib Publications
ISBN 1–870518–64–0
Price £16.99

Moving Voices traces the African oral tradition, through African American and Caribbean culture, to Black performance poetry in England, and examines the many factors which have shaped this oral poetry.

Twelve contemporary poets discuss their childhood and school experiences, how they became poets and who influenced them,
how they write and where they have performed, their favourite poets and poems, what they write about and their advice to budding poets. A selection of poems by each poet concludes each chapter.

The poets include those born in the Caribbean – James Berry, Valerie Bloom, Jean 'Binta' Breeze, John Lyons and Cuban Redd; and those born in England – Adisa, Patience Agbabi, Michael Groce, Cynthia Hamilton, Asher Hoyles, Levi Tarafi and Benjamin Zephaniah.
A detailed introduction addresses key question such as:

• What is Black performance poetry and what does it sound like?
• How does it stem from African and Caribbean culture?
• How is the oral tradition related to the literary traditional?
• Who are Louise Bennett and Mikey Smith?

The accompanying CD contains a selection of recordings by each poet.
Click here for more about Asher & Martin Hoyles
Remember Me Achievements Of Mixed-Race People Past & Present