Intermix.org.uk is a website for the benefit of mixed-race families, individuals and anyone who feels they have a multiracial identity and want to join us.

Our mission is to offer a view of the mixed-race experience, highlighting icons, film, books, poetry, parenting techniques, celebrities, real lives and much more.

Our online forums are a great place to meet others, ask questions, voice your opinions and keep in touch. Sign up for our monthly newsletter and delve into our pages.

Want to join in? Become an Intermix member to take part:




Memories Of My Ghost Brother - Heinz Insu Fenkl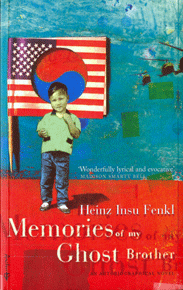 Published by Anchor
ISBN 1-86230-001-1
Price £9.99

Insu is growing up in the streets of Pupyong in the shadow of a US Army base at the demilitarised zone separating South Korea from the communist North. He is the son of an American army sergeant and a Korean woman. South Korea is undergoing reconstruction and modernisation after a devastating war.

Poverty is widespread and the American influence pervasive. Outside the base Korean women wait daily, hoping for a GI husband. Insu's mother has her man but must still exploit the black-market to support her family.

Insu is caught between two strange and separate worlds. The attractive, transplanted America of his father, and his mother's - a world haunted by ghosts, fox demons, and the spectre of Japanese occupations. At the American school speaking Korean is banned, but Insu's mind is filled with the signs and portents, the ghost stories and folk tales of his Korean heritage. He may learn the slippery English language, but his eyes will never be blue, nor his hair yellow like his father's. And as always in the background there is the shadow-memory of a child whose presence is never explained until Insu is older and learns of the violent tragedies and irreparable damage which prejudice has brought his family.
Have you read this book? Why not let us know your thoughts.
Click here to join the Intermix Forums: