Intermix.org.uk is a website for the benefit of mixed-race families, individuals and anyone who feels they have a multiracial identity and want to join us.

Our mission is to offer a view of the mixed-race experience, highlighting icons, film, books, poetry, parenting techniques, celebrities, real lives and much more.

Our online forums are a great place to meet others, ask questions, voice your opinions and keep in touch. Sign up for our monthly newsletter and delve into our pages.

Want to join in? Become an Intermix member to take part:




Noughts & Crosses - Malorie Blackman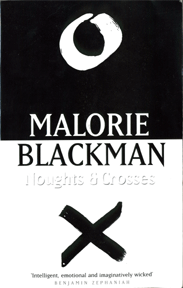 Published by Corgi
ISBN 0-552-54632-1
Price £5.99
Callum is a nought - a second-class citizen in a world run by the ruling Crosses...

Sephy is a Cross, daughter of one of the most powerful men in the country...

In their world, noughts and Crosses simply don't mix. And as hostility turns to violence, can Callum and Sephy possibly find a way to be together?

Ever wondered what life would be like if the tables were turned? Malorie Blackman gives us her vision as she dares to go where others fear to tread. Of course, as per usual, the Mixed-Race characters will be stuck in the middle but then what's new. Although this book is aimed at teenagers many adults will find it appealing and identify with the difficulties the main characters face.

Have you read this book? Why not let us know your thoughts.
Click here to join the Intermix Forums: