Intermix.org.uk is a website for the benefit of mixed-race families, individuals and anyone who feels they have a multiracial identity and want to join us.

Our mission is to offer a view of the mixed-race experience, highlighting icons, film, books, poetry, parenting techniques, celebrities, real lives and much more.

Our online forums are a great place to meet others, ask questions, voice your opinions and keep in touch. Sign up for our monthly newsletter and delve into our pages.

Want to join in? Become an Intermix member to take part:




Black Panther - Black Superhero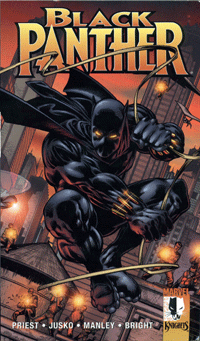 Black Panther is available at all good comic shops both in comic form price: £3.50
six-issue book price: £12.99
ISBN 0-7851-0829-7

Finally Marvel have come up with a Black super hero who's an African warrior to be proud of. For those who love comic books the series has everything one would expect from Marvel and more.

For untold generations, the Black Panther kings of the technologically advanced African nation of Wakanda have ruled their people through an unprecedented period of peace and prosperity. But when T'Challa became king, the Wakandans learned of the world outside their nation-and the rest of the world learns of the amazing riches to be found in Wakanda. Since that day, King T'Challa has fought alone against those who would plunder his people and nation.

Like the jungle cat whose image he bears, the Black Panther needs to remain one step ahead of his enemies at all times. He must be secretive and at times aloof, to the bewilderment of his friends and those who consider him an ally in the super-hero community. Along the way he has forged a life as a king, warrior and sometimes super hero.

The illustrations are excellent and children and adults will enjoy following the African warrior as he defends his kingdom of Wakanda.
Have you bought this book for your teenager? Why not let us know your thoughts.
Click here to join the Intermix Forums: