Intermix.org.uk is a website for the benefit of mixed-race families, individuals and anyone who feels they have a multiracial identity and want to join us.

Our mission is to offer a view of the mixed-race experience, highlighting icons, film, books, poetry, parenting techniques, celebrities, real lives and much more.

Our online forums are a great place to meet others, ask questions, voice your opinions and keep in touch. Sign up for our monthly newsletter and delve into our pages.

Want to join in? Become an Intermix member to take part:




White Teeth - Zadie Smith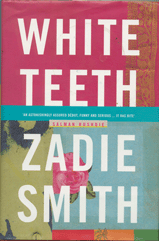 Epic and intimate, hilarious and poignant, White Teeth is the story of two North London families – one headed by Archie, the other by Archie's friend, a Muslim Bengali named Samad Iqbal. Pals since
they served together in World War II, Archie and Samad are a decidedly unlikely pair. Plodding Archie is typical in every way until he marries Clara, a beautiful, toothless Jamaican woman half his age,
and the couple have a daughter named Irie (the Jamaican word for 'no problem'). Samad - devoutly Muslim, hopelessly 'foreign' – weds the feisty and always suspicious Alsana in a prearranged union. They have twin sons named Millat and Magid, one a pot-smoking punk-cum-militant Muslim and the other an insufferable science nerd.

The riotous and tortured histories of the Joneses and the Iqbals are fundamentally intertwined, capturing an empire's worth of cultural identity, history, and hope.

Zadie Smith's dazzling first novel plays out its bounding, vibrant course in a Jamaican hair salon in North London, an Indian restaurant in Leicester Square, an Irish poolroom turned immigrant café, a liberal public school, a sleek science institute. A winning debut in every respect, White Teeth marks the arrival of a wondrously talented writer who takes on the big themes – faith, race, gender, history, and culture – and triumphs.
Check out our archives for more adult books:
Back to adult books: