Intermix.org.uk is a website for the benefit of mixed-race families, individuals and anyone who feels they have a multiracial identity and want to join us.

Our mission is to offer a view of the mixed-race experience, highlighting icons, film, books, poetry, parenting techniques, celebrities, real lives and much more.

Our online forums are a great place to meet others, ask questions, voice your opinions and keep in touch. Sign up for our monthly newsletter and delve into our pages.

Want to join in? Become an Intermix member to take part:




Quicksand & Passing - Nella Larsen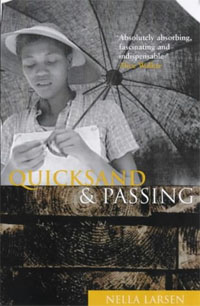 Published by Serpents Tail
ISBN
Price £7.99

Acclaimed as one of the most sophisticated novelists to emerge from the Harlem Renaissance, Nella Larsen tries to explain the complex identities of mixed-race women growing up in 1920's Harlem in these landmark novels put together by Serpents Tail.

Quicksand follows the life of a mixed-race woman torn between living a pampered life with her white relatives in Denmark and trying to find a place for herself in Harlem. The character Helga Crane finds that she cannot live comfortably with one race without yearning contact with the other.

Passing tells the story of two mixed-race women who meet up again after many years apart. They are clearly drawn to each other, one having settled for a life in the black bourgeoisie and the other choosing to pass for white.

Both novels deal with race, gender, class and sexuality. Readers will find an interesting contrast between life in England and the segregated life that was America in the twenties and to a great extent still is today.
Read more about Nella Larsen in Mixed-Race Icons:
Check out our archives for more adult books:
Back to adult books: