Intermix.org.uk is a website for the benefit of mixed-race families, individuals and anyone who feels they have a multiracial identity and want to join us.

Our mission is to offer a view of the mixed-race experience, highlighting icons, film, books, poetry, parenting techniques, celebrities, real lives and much more.

Our online forums are a great place to meet others, ask questions, voice your opinions and keep in touch. Sign up for our monthly newsletter and delve into our pages.

Want to join in? Become an Intermix member to take part:




Black, White & Gold
Kelly Holmes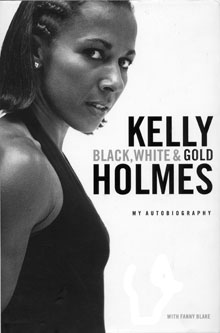 Published by Virgin
Price:£17.99

Kelly Holmes has become a household name in the UK. She stole the nation's hearts when she won gold in both the 800m and the 1500m at the Athens Olympic games in 2004. But that isn't all there is to this young mixed-race woman.

Born to an English mother and Jamaican father, Kelly was the result of an unplanned pregnancy. Her mother was only 17 and the prospects for a single mother with a brown baby in Kent in the 70's didn't look promising.

When she broke the news of their forthcoming grandchild to her parents she was given an ultimatum: have the baby adopted or leave home. Thankfully her mother chose the latter and moved to London with Kelly's father. The relationship didn't fare well however and before Kelly was a year old her mother and father went their separate ways.
For the first five years of her life Kelly spent most of her time in St George's children's Home, just outside Tonbridge. Her mother who worked close by would visit her regularly. Although she tried several times to make a home for herself and Kelly she found it just too difficult and Kelly would end up back at St George's. At one point she almost succumbed to the pressure from her parents and had Kelly adopted by a waiting couple. As social services came to take Kelly away her mum started crying and Kelly was saved once more.
It was the entrance of her stepfather Mick that finally offered some security to the family and though they had their ups and downs together they laid the foundations that enabled Kelly to become the world-class athlete that she is today.
In Black, White and Gold, her autobiography Kelly Holmes shares her inspirational story of growing up mixed-race in Kent, of not knowing her real father, of being a woman in the male-dominated army and of fighting a host of injuries to bring home not one but two gold medals for her country.
Kelly made history when she won the 800m and 1500m - she was the first Britain to do so in 84 years. In 2004 she was crowned BBC TV Sports Personality Of The Year and was named a Dame at Buckingham Palace in the New Years honours list.

An icon for all those striving to achieve their goals, Kelly's story is one for the history books and it looks like there's still much more to come from this remarkable woman.


Check out our archives for more adult books:
Back to adult books: