Mixed Goals

Leon Mann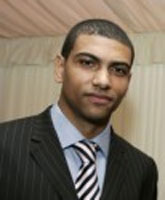 When the former England coach, Sven Goran Eriksson, named his England squad for the World Cup in Germany last year all the talk was of a 17 year called Theo.
Arsenal's recent multi million pound signing, Theo Walcott, was the surprise inclusion in the squad and had no experience at international level. How would he do? Was he ready? Had Sven made a mistake?
For me, and I'm sure for many others, his inclusion had a far greater significance.
"Six ...Theo makes six."
From the 7 black players selected 6 were mixed-race. David James, Rio Ferdinand, Ashley Cole, Jermaine Jenas, Aaron Lennon and Theo Walcott.
It struck me then that lots of high profile mixed-race players were playing in the Premier League. Kieron Dyer, Tom Huddlestone, Bobby Zamora, Kieran Richardson, Curtis Davies, Liam Rosenior, Wes Brown, Anton Ferdinand, Wayne Routledege, Gabriel Agbonlahor....Ryan Giggs! The list went on - and on.
I approached The Observer with the idea of a feature on mixed-race footballers and the article made a big impact. The letters flooded in including one from former Liverpool and England footballer, Stan Collymore. He welcomed the article as 'a refreshing change', adding, "Trawling through the archives, there's nothing that celebrates, nor even mentions my tangible achievements, including being the first mixed-race player to break the British transfer record."
The players interviewed raised some interesting points about language used in the game and offered an insight into their personal experiences.
Chelsea and England star Ashley Cole was categorical when asked about how he refers to himself. "I call myself mixed-race", said Cole. "It was a predominantly white home environment. I didn't really see my black family. At home we ate English food; when we went to parties we didn't listen to soca or reggae, it would be English music. But in football you're just seen as black or white; I don't think people realise the difference."
West Brom defender, Curtis Davies, said he was used to hearing half-caste but there were worse terms. "Half-breed is the worst, though".
Watford's Jobi McAnuff called on the media to redress how they described mixed-race players, "I don't think people realise saying 'mixed race' would make such a big difference to mixed-race players like us. The media is powerful. Imagine if they started using it in the newspapers and on Match of the Day. It would educate people."
The enthusiasm and passion with which Cole, Davies and McAnuff speak about their identity reflects a growing confidence among the younger generation to share their personal experiences on race and celebrate being mixed race.
Very few mixed race players from older generations have had the confidence to speak openly about their identity and sadly some mixed race pioneers have evaded the history books.
Viv Anderson is widely acknowledged as the first black player to play for England in 1978, but 10 years prior a mixed race player made his England debut at Wembley. Because he was very light skinned he was never acknowledged as the first black, nor the first mixed race player, to play for England. Those who have spoken to him say he prefers things remain this way.
Many other mixed race footballers have also been overlooked such as Jimmy Carter, a Londoner with an Asian parent who played for Arsenal and Liverpool in the 1980's and 90's. At a time when there were no Asian footballers he was competing at the highest level of the game. Meanwhile, the achievements of players including Frank Soo (real name Hong Y. Soo), who was of mixed Chinese and English parentage and became the first man of colour to play for England during the wartime period in 1942, are rarely celebrated in a way that highlights the rich history of mixed race people in the UK.
Football offers many examples of successful mixed race players but also serves to illustrate issues facing mixed race people.
Looking back to my school days the only discussion that would take place about my mixed parentage was blacks versus whites in the playground - when both teams would argue that I should be playing for them. On most occasions I was a spectator simply waiting to be told what 'I' was. Torn, I ended up playing a half for both sides - feeling obliged to make an equal contribution to both teams. Ironically, this is one of the few memorable positive experiences of being mixed race I can remember at school. I was wanted.
At this time I would see the mixed race footballers on television and idolized them. But would never hear them talk about being mixed race. It would have meant so much at a time when I was told I wasn't 'properly black' by my some black friends, and struggled to connect with my white mates.
In many ways it was quite ironic that football, an old fashioned industry, unearthed one of the first major mainstream articles on mixed race identity. But given the contribution mixed race footballers have made in the game the article was long overdue.
Essentially, we all have a responsibility to influence our own industries, work places and environments. It is vital that we drive this discussion forward, celebrate mixed race achievement and ensure we are visible to others.
As the fastest growing ethnic minority group in the UK - it's vital that we get the ball rolling quickly.
We can only gain momentum from here.


This paper was first submitted as part of the e-conference mixedness and mixing 4-6 September 2007.
Click here to visit our forums and read the comments posted about this paper or to add your own comments.