Intermix.org.uk is a website for the benefit of mixed-race families, individuals and anyone who feels they have a multiracial identity and want to join us.

Our mission is to offer a view of the mixed-race experience, highlighting icons, film, books, poetry, parenting techniques, celebrities, real lives and much more.

Our online forums are a great place to meet others, ask questions, voice your opinions and keep in touch. Sign up for our monthly newsletter and delve into our pages.

Want to join in? Become an Intermix member to take part:




Host: Melanie Hill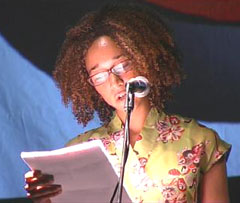 Melanie Hill is the daughter of a Trinidadian mother and an English father. She first hit our TV screens in 2001 when she entered the first Big Brother show. Before then she had a variety of jobs from sales and
marketing, advertising and PR, to banking.

Since Big Brother she's presented several TV shows including Chained and TFI Friday. She has also put her hand to writing and has a regular column in the Hackney Gazette.

Today, Melanie is following her desire to become a barrister and is now in law school studying for her second degree. Melanie featured in the Interface photographic exhibition by Shambhala and has taken time off from studying to host
A Day Of Celebration Of Mixed-Race Achievement.
When asked about her racial background Melanie said, 'I am in the unusual and privileged position to have direct access to two very diverse cultures. Unlike most stories you hear about the traumas of lack of belonging and lack of 'true' identity, my story is a happy one. Being from a mixed race background has made me more aware of those who also share a culturally diverse upbringing and therefore more understanding of where ignorance, animosity and prejudice come from. I feel truly enriched by the two wonderful cultures that both play a huge part in my life.'