Intermix.org.uk is a website for the benefit of mixed-race families, individuals and anyone who feels they have a multiracial identity and want to join us.

Our mission is to offer a view of the mixed-race experience, highlighting icons, film, books, poetry, parenting techniques, celebrities, real lives and much more.

Our online forums are a great place to meet others, ask questions, voice your opinions and keep in touch. Sign up for our monthly newsletter and delve into our pages.

Want to join in? Become an Intermix member to take part:




Escape From Witch Castle
Sarah Gregory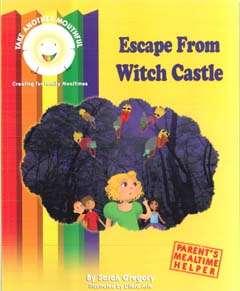 Take Another Media Ltd

Price: £9.99
When Sarah Gregory's young son Thomas started refusing to eat dinner, her mother-in-law known to her children as Granny Erica introduced her to Take Another Mouthful stories. They helped change Thomas' relationship with food in a happy and healthy way and helped make family mealtimes a fun and happy time.

Now Sarah and her family want to share their secret with the world and help you and your family find fun and adventure at mealtimes.

Escape From Witch Castle follows Thomas, and his sisters, Amelie, Edith and Agnes on their quest to an exciting new land, making new friends along the way.

With each mouthful comes adventure and as the excitement builds you take another mouthful to reveal the next part of the adventure. The story moves at just the right pace to give children time to eat a mouthful of food and is so impelling, mealtime becomes an adventurous experience for both parent and child rather than the long exasperating endurance test some families have to go through.

Apart from being a Parent's Mealtime Helper, Escape From Witch Mountain is also the story of a racially mixed family doing ordinary everyday things together and is a must for parents and teachers of young children.

Escape From Witch Castle by Sarah Gregory is available to buy now.