Intermix.org.uk is a website for the benefit of mixed-race families, individuals and anyone who feels they have a multiracial identity and want to join us.

Our mission is to offer a view of the mixed-race experience, highlighting icons, film, books, poetry, parenting techniques, celebrities, real lives and much more.

Our online forums are a great place to meet others, ask questions, voice your opinions and keep in touch. Sign up for our monthly newsletter and delve into our pages.

Want to join in? Become an Intermix member to take part:




Petar's Song
Pratima Mitchell & Caroline Binch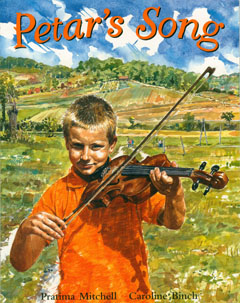 Frances Lincoln

Price: £5.99
Petar loves music, and his violin keeps the whole village dancing. But when war breaks out, Petar, his mother and his brother have to leave the valley and flee across the border to safety, leaving their beloved father in the village with the other men.

Petar is so sad that he can no longer play his music - until one day a song of peace, spring and new beginnings starts to form in his head…

Petar's Song is a glorious tale of hope and community spirit.

Petar's Song by Pratima Mitchell & Caroline Binch is available to buy now.