Intermix.org.uk is a website for the benefit of mixed-race families, individuals and anyone who feels they have a multiracial identity and want to join us.

Our mission is to offer a view of the mixed-race experience, highlighting icons, film, books, poetry, parenting techniques, celebrities, real lives and much more.

Our online forums are a great place to meet others, ask questions, voice your opinions and keep in touch. Sign up for our monthly newsletter and delve into our pages.

Want to join in? Become an Intermix member to take part:




We Are Britain
Benjamin Zephaniah & Prodeepta Das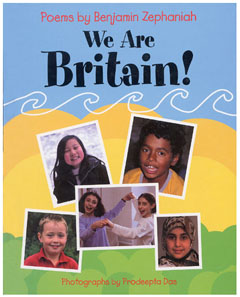 Frances Lincoln

Price: £6.99
A new poetry collection from renowned performance poet Benjamin Zephaniah, celebrating the diversity of British society.
We Are Britain is a unique portrait of British children. Benjamin has written 12 poems, each one about a child in his or her home environment.

The children are from a range of backgrounds and cultures and the book challenges traditional perceptions of the way children live. It shows that despite their differences, children have many similar preoccupations whatever their cultural background.

We Are Britain springs from the rich interaction between many peoples which characterises modern Britain. Illustrated with Prodeepta Das' vibrant photographs, this is a fascinating and fun collection which children will love.

We Are Britain by Benjamin Zephaniah & Prodeepta Das is available to buy now.