Intermix.org.uk is a website for the benefit of mixed-race families, individuals and anyone who feels they have a multiracial identity and want to join us.

Our mission is to offer a view of the mixed-race experience, highlighting icons, film, books, poetry, parenting techniques, celebrities, real lives and much more.

Our online forums are a great place to meet others, ask questions, voice your opinions and keep in touch. Sign up for our monthly newsletter and delve into our pages.

Want to join in? Become an Intermix member to take part:




The Great Big Book Of Familes
Mary Hoffman & Ros Asquith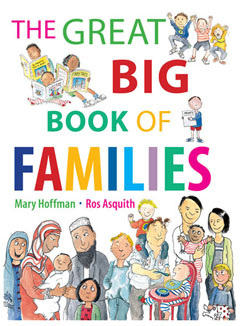 Frances Lincoln

Price: £11.99
What is a family? Once, it was said to be a father, mother, boy, girl, cat and dog living in a house with a garden. But as times have changed, families have changed too, and now there are almost as many kinds of families as colours of the rainbow - from a mum and dad or single parent to two mums or two dads, from a mixed-race family to children with different mums and dads, from families with a disabled member to those with a mum or dad in prison.
Mary Hoffman takes a look through children's eyes at the wide varieties of family life: from homes, food, ways of celebrating, schools and holidays to getting around, jobs and housework, from extended families, languages and hobbies to pets and family trees - and she concludes that, for most people, their own family is the best one of
all! With Ros Asquith's delightful pictures, this book takes a fresh, optimistic look at families of today.

The Great Big Book Of Families by Mary Hoffman & Ros Asquith is available to buy now.