Intermix.org.uk is a website for the benefit of mixed-race families, individuals and anyone who feels they have a multiracial identity and want to join us.

Our mission is to offer a view of the mixed-race experience, highlighting icons, film, books, poetry, parenting techniques, celebrities, real lives and much more.

Our online forums are a great place to meet others, ask questions, voice your opinions and keep in touch. Sign up for our monthly newsletter and delve into our pages.

Want to join in? Become an Intermix member to take part:




Brown Eyes
Nicole Moore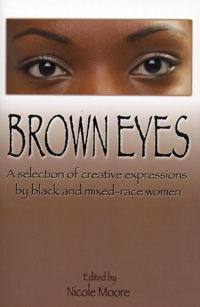 Published by Troubador
Price £9.99

A collection of poetry and autobiographical writing from black and mixed-race women. These are everyday women expressing themselves in their own unique style.
Each contribution gives the reader the chance to see life through 'new' eyes. Brown Eyes celebrates, reflects and embraces the diversity of the female identity and the common experiences of women living in the UK.

Readers will spot a reworked version of Danielle Imbert's All Mixed Up first shown here on Intermix.org.uk and work by the talented Kimberly Trusty who wowed us all the the Intermix Day Of Celebration Of Mixed-Race Achievement.

Brown Eyes is packed full of the most wondrous creative expression.

Just to give you a little taster here is a section of a poem by Kimberly Trusty entitled:
You Say My Love Ain't Political.

I cross blue lines daily for you
then try not to break
when your mother
tells her friends
I'm pretty
like Cleo Laine
classy
like Lena Horne
I could be
Egyptian Israeli Italian Greek
in other words
I can pass
for something other
than what I am

You'll have to buy Brown Eyes to read the rest but we can assure you, it'll be your best buy of the year.


Check out our archives for more adult books:
Back to adult books: