Intermix.org.uk is a website for the benefit of mixed-race families, individuals and anyone who feels they have a multiracial identity and want to join us.

Our mission is to offer a view of the mixed-race experience, highlighting icons, film, books, poetry, parenting techniques, celebrities, real lives and much more.

Our online forums are a great place to meet others, ask questions, voice your opinions and keep in touch. Sign up for our monthly newsletter and delve into our pages.

Want to join in? Become an Intermix member to take part:




Tetched
Thaddeus Rutkowski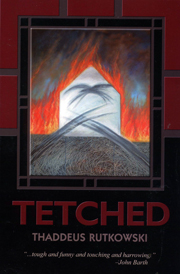 Published by Behler Publications

An unusual tale of a mixed-race young man growing up in rural America. His Chinese mother tries to pass on what she can remember of her homeland, memories of hard work and little food. whilst his American father drowns himself in drink, dreams of killing the President and moans about the chains of family life that prevent him from realising his dreams.
The boy finds a letter from his paternal grandfather to his father stating 'Think of your children. They won't belong with Asians, and they won't belong with other people, either. Would that be fair to them?'

He makes friends only to watch them disappear once their parents get a look at him. He searches for acceptance of his difference from a succession of people who couldn't care less.
This young man's jouney to manhood and acceptance is darkly overshadowed by his bizzare obsession with trying to hang himself and hogtieing females, not an easy way to make friends.

Written in an edgy, minimalist style, Tetched presents a darkly comic picture of difficult family life, quirky sexuality and urban dislocation.


Check out our archives for more adult books:
Back to adult books: