Intermix.org.uk is a website for the benefit of mixed-race families, individuals and anyone who feels they have a multiracial identity and want to join us.

Our mission is to offer a view of the mixed-race experience, highlighting icons, film, books, poetry, parenting techniques, celebrities, real lives and much more.

Our online forums are a great place to meet others, ask questions, voice your opinions and keep in touch. Sign up for our monthly newsletter and delve into our pages.

Want to join in? Become an Intermix member to take part:




My Eyes Only Look Out
Margaret McCarthy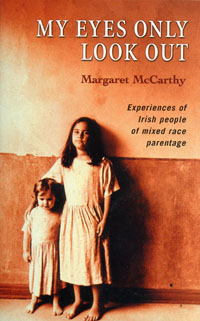 Published by Brandon Books
ISBN --86322-284-6


When Margaret McCarthy found herself pregnant with a mixed-race child she gave the idea of adoption serious thought. She was told that as the baby's father was black it would be more difficult to find a family to adopt. Margaret realised that her baby was being labelled even before it was born. She decided to keep her baby, a girl who she called Mia.

Ever since Mia's birth she wondered what it was like for other mixed-race people growing up in her native Ireland. My Eyes Only Look Out reflects the views of twelve people of mixed-race; most are private citizens in everyday occupations; all have their own experiences of growing up looking different in a mostly white society.
One of those featured is Anne: Daughter of a German mother and a Nigerian father she lives in a rural part of County Cork with her family but she grew up in London. Talking about her feelings for colour she says:
My mother was blonde and blue eyed. I never had a problem with my colour as a small child. I never realised that I was coloured. When we moved to Kent, it seemed I was the one and only black person around, and, in a way, I just wanted to be classed as white. There wasn't any kind of positive image of black identity; it was all very negative. At one stage, I remember thinking that I wanted to be a teacher, and then I thought, I can't be a teacher because you don't have black teachers. I think I wanted to be white all through my teenage years - from about ten to seventeen. I didn't like being coloured because it caused me problems and it didn't seem to have any advantages. I think it was after I got the job with the vet that I started to feel good about myself because they thought I was a really good worker. Once he said to me, 'God, you really are a hard worker. You work like a black.' And then this embarrassment. And I remember that I didn't mind him saying that. Excerpt from My Eyes Only Look Out.
My Eyes Only Look Out is available from amazon.co.uk


Interested in Irish heritage take a look at this
Check out our archives for more adult books:
Back to adult books: