Intermix.org.uk is a website for the benefit of mixed-race families, individuals and anyone who feels they have a multiracial identity and want to join us.

Our mission is to offer a view of the mixed-race experience, highlighting icons, film, books, poetry, parenting techniques, celebrities, real lives and much more.

Our online forums are a great place to meet others, ask questions, voice your opinions and keep in touch. Sign up for our monthly newsletter and delve into our pages.

Want to join in? Become an Intermix member to take part:




Jimi & Me
Jaime Adoff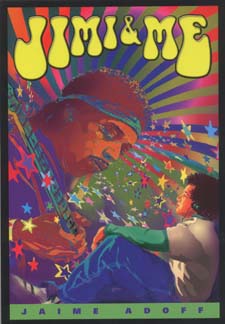 Published by Hyperion

13 year-old Keith James is known as little cool to his music producer dad, Marvin Anthony James, also known as MAJ.

If Keith is known as little cool to his dad then his dad is super cool to him. Putting together tracks and working in the studio, going on gigs, he promises that one day he'll have more time for his son. His dad's helping him put together his demo and Keith dreams of playing on a great stage, just like his and his dad's idol Jimi Hendrix. Then Keith's dad is killed violently and nothing will ever be the same again.

With his father gone money is tight and Just one month later Keith and his mother are forced to move from big-city Brooklyn, New York to small-town Hollow Falls, Ohio. He is not surprised to find he's the only one sporting an Afro, a 60's wardrobe and a zealous appreciation of Jimi Hendrix at his new school. Then he meets Veronica, a beautiful blonde who brings some light into his grief. Despite warnings from the school bully against their mixed race union the pair become good friends.

Just when he thinks he might be over the worst Keith discovers there may be a journey even more painful than his father's death - coming to peace with his father's life. As powerful secrets from his father's past come to light, Keith realises he's not his father's only son and that the man he once worshipped is fast becoming the man he hardly knew.
A powerful novel dealing with love, loss, unknown siblings and identity Jimi & Me is written in a free-verse poetry format that makes it easy to read and hard to put down. Highly recommended for teenagers and Jimi Hendrix fans, Jimi and Me is not on general sale in the UK but can be purchased on amazon.co.uk.

Click here to find out more about Jimi & Me author Jaime Adoff

Have you read this book? Why not let us know your thoughts.
Click here to join the Intermix Forums: