Intermix.org.uk is a website for the benefit of mixed-race families, individuals and anyone who feels they have a multiracial identity and want to join us.

Our mission is to offer a view of the mixed-race experience, highlighting icons, film, books, poetry, parenting techniques, celebrities, real lives and much more.

Our online forums are a great place to meet others, ask questions, voice your opinions and keep in touch. Sign up for our monthly newsletter and delve into our pages.

Want to join in? Become an Intermix member to take part:




A Million Nightingales
Susan Straight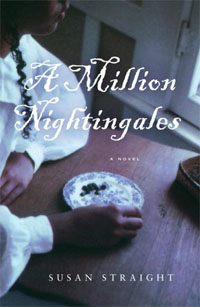 Published by Pantheon Books

Price: UK £14.33 US$24.95

When Marie-Thérèse, an African, kidnapped and sold into slavery is given as a gift for the night to her master's guest, a nameless visiting white sugar broker, she in return receives her own gift, a daughter who is all she lives for. The child who she names Moinette is known as a 'cadeau-fille' — or 'gift girl' — conceived after a rape.

Now 14 years old Moinette slowly begins to realise the suffering world she has been born into. As she travels upriver by steamboat, she passes a plantation where the decapitated heads of runaway slaves are raised on pikes along the shore. She witnesses, a house slave staked to the ground for two days and her face gnawed by rats, a grotesque punishment for leaving her mistress alone for a few hours at night as she tended her own sick child.

Yes A Million Nightingales is a story about slavery but it is also much more than that, it is a story about a young mixed-race woman coming to know herself, where she came from and where she fits in the world around her.

Author Susan Straight has done her homework and A Million Nightingales is well researched and hauntingly uncomfortable. Herself the mother of three mixed-race daughters Susan said she became obsessed with reading about people like her children. 'I read an account of a mixed-race woman in 1800s Louisiana. She was a slave until she was thirty, then was bought and freed, but had to buy her own son, and she owned him. The concept of owning your own child, legally, was frightening and fascinating. According to the law then, he could not be freed until he was 21, and so his mother had to come up with ways to raise him in that state. I wanted to write a novel about a mother and son like that, set in the past, to understand how presently it is still hard to love each other, and raise each other, with that kind of legacy.'
Susan says A Million Nightingales is the first book in a trilogy, the second is a story collection about the descendants of that freed woman, people who now live in southern California. And the third is another novel about her descendants raising an abandoned child of a Mexican migrant worker.
The book's title comes from a lyric quoted by a Jewish man living at risk in Louisiana, where Jews are forbidden by law to establish residence: 'I have a million nightingales on the branches of my heart singing freedom,' he said softly. 'My grandmother knew someone who sang that. So always someone is not free.'
Check out our archives for more adult books:
Back to adult books: