Intermix.org.uk is a website for the benefit of mixed-race families, individuals and anyone who feels they have a multiracial identity and want to join us.

Our mission is to offer a view of the mixed-race experience, highlighting icons, film, books, poetry, parenting techniques, celebrities, real lives and much more.

Our online forums are a great place to meet others, ask questions, voice your opinions and keep in touch. Sign up for our monthly newsletter and delve into our pages.

Want to join in? Become an Intermix member to take part:




Black Men In Interracial Relationships - what's Love Got To Do With It
Kellina M. Craig-Henderson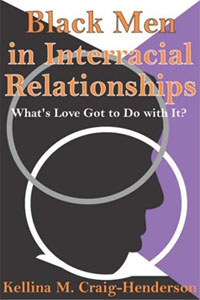 Published by Transaction

Price: UK £15.00 US$29.95

If the media were to be believed at least half of the black men in the U.K. have white partners, the statistics used are based on a very small section of the population and do not reflect the black male population as a whole. Nevertheless they are constantly quoted and leave many black women wondering what's wrong with them and help to fuel bad feeling towards those who do engage in mixed-race relationships.

Kellina M. Craig-Henderson has decided to tackle the subject head on and in Black Men In Interracial Relationships - what's Love Got To Do With It she explores how race plays out in personal relationships between black men and non-black women.

A professor of psychology at Howard University, Kellina interviewed 25 black men in depth about family support and family rejection, raising mixed-race children, the reactions of strangers and their decisions to enter into mixed-race relationships.

Kellina also addresses the questions many black women might ask when they see an interracial couple: Why someone who looks like her? Why not someone who looks like me? And the questions that many white men might ask the woman on the black man's arm: Why him? Why not someone with power like mine? Perhaps the biggest questions the book tries to answer are: Why the heck are we all still asking these questions in the first place? What is going on with America's attitudes toward race, interracial couples and their mixed-race children?

In the end there is no one identifiable reason why black men enter into mixed-race relationships, what does come across is that like anyone else they mainly date women that they like, that they might meet at work or socially and that ultimately race is just a socially constructed little box that may affect us politically, socially and economically but has little control over who we fall in love with.

Hopefully these collective testimonies might challenge and surprise some readers. "Black Men in Interracial Relationships" can help spur discussions -- and maybe changes -- regarding colour and love. Perhaps it will help us all get to a time of racial harmony, a future time, a future people, loving, freely, across colour lines.
Black Men In Interracial Relationships - what's Love Got To Do With It is available to buy now.
Check out our archives for more adult books:
Back to adult books: