Intermix.org.uk is a website for the benefit of mixed-race families, individuals and anyone who feels they have a multiracial identity and want to join us.

Our mission is to offer a view of the mixed-race experience, highlighting icons, film, books, poetry, parenting techniques, celebrities, real lives and much more.

Our online forums are a great place to meet others, ask questions, voice your opinions and keep in touch. Sign up for our monthly newsletter and delve into our pages.

Want to join in? Become an Intermix member to take part:




Man Gone Down
Michael Thomas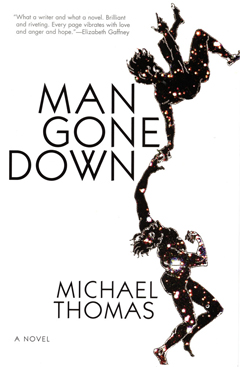 Published by Grove Press
Price:

Man Gone Down is a striking portrait of an African American man, married to a white woman and trying to reconcile his past world with a future one he feels he's been promised.

On the eve of the unnamed narrator's thirty-fifth birthday, he finds himself broke, estranged from his Boston Brahmin wife and three children, and living in the bedroom of a friend's six-year-old child. He has four days to come up with the money to keep his family afloat, four days to try to make some sense of his life.
He's been getting by working construction jobs though he's known on the streets as 'the professor,' as he was expected to make something out of his life.

Alternating between his past—as a child in inner-city Boston, where he was bussed to the suburbs as part of the doomed attempts at integration in the 1970s—and the present in New York City where he is trying mightily to keep his children in private schools, we learn of his mother's abuses, his father's abandonment, raging alcoholism, and the best and worst intentions of a supposedly integrated America.

This is an extraordinary debut. It is a story of the American Dream gone awry, about what it's like to feel pre-programmed to fail in life—and the urge to escape that sentence.
Man gone down is not for sale in the UK, however Amazon appear to have a number of copies from as little as £6.43. Click here to get yours.
Check out our archives for more adult books:
Back to adult books: