Intermix.org.uk is a website for the benefit of mixed-race families, individuals and anyone who feels they have a multiracial identity and want to join us.

Our mission is to offer a view of the mixed-race experience, highlighting icons, film, books, poetry, parenting techniques, celebrities, real lives and much more.

Our online forums are a great place to meet others, ask questions, voice your opinions and keep in touch. Sign up for our monthly newsletter and delve into our pages.

Want to join in? Become an Intermix member to take part:




Helping Children To Build Self-Esteem
Deborah M Plummer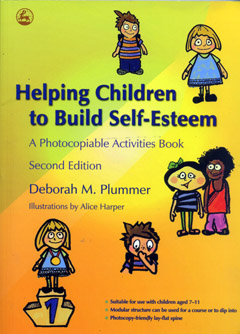 Published by Jessica Kingsley Publishers

Price: UK £19.99

This second edition of the highly successful Helping Children To Build Self-Esteem is packed with fun and effective activities to help children develop and maintain healthy self-esteem.

Helping Children To Build Self-Esteem is an activities book that will equip and support teaching staff, therapists and carers in encouraging feelings of competence and self-worth in children and their families. It is primarily designed for use with individuals and groups of children aged 7-11, but the ideas can easily be adapted for both older and younger children and children with learning difficulties.

This fully photocopiable resource is invluable for anyone looking for creative, practicle ways of nurturing self-esteem in children.


Also by the same author
Self-Esteem Games For Children:

Helping Adolescents And Adults To build Self-Esteem::