Intermix.org.uk is a website for the benefit of mixed-race families, individuals and anyone who feels they have a multiracial identity and want to join us.

Our mission is to offer a view of the mixed-race experience, highlighting icons, film, books, poetry, parenting techniques, celebrities, real lives and much more.

Our online forums are a great place to meet others, ask questions, voice your opinions and keep in touch. Sign up for our monthly newsletter and delve into our pages.

Want to join in? Become an Intermix member to take part:




Thoughts Of A Creole Woman: A Reminiscence
P A Breinburg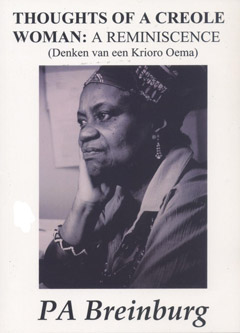 Petrojass Publications

Price: £6.99
Creole - 1. a. a person of mixed European and African race, especially one living in the West Indies. b. a person who has among her or his ancestors one of the first European people who settled in the West Indies or Spanish America, or one of the French or Spanish people who settled in the southern state of the U.S.A.
2. a. a person of mixed European and Black descent b. a former pidgin language developed into the sole or native language of a community.
Petronella Breinburg came to the UK with her two children to join her husband, only to discover he had found someone else. Starting at rock bottom she carved herself a life and rose to become an acclaimed children's author, linguist and educationalist.

Her experience of life in the UK has not always been a smooth one but she herself acknowledges that she wouldn't be where she is today without the help of individuals, many of them white who took the time to help a woman from Surinam pull herself up.
She'd been told that all whites were racist but the lived experience was something different and Petronella learned as many of us do that it's not the colour of a person's skin that matters but their character.
Lambasted for acknowledging her mixedness and refusing to fit into a box, petronella Breinburg is one of the few prepared to even acknowledge the existence of black discrimination against white.

Thoughts Of A Creole Woman: A Reminiscence, is a selection of Pertonella Breinburg's poetry, prose and thoughts taken from her life experiences living in Surinam, Guyana and for the past 45 years in Britain. It's a piece of social history, things your grandparent might pass on, how life was back then and how it is now for a woman of colour. More importantly there's no pussy footing around trying to make everyone feel happy, Petronella tells it like it was and is and that's a breath of fresh air in these days of selective memory.

Thoughts Of A Creole Woman: A Reminiscence, by P A Breinburg is available to buy at all good bookshops now or click here to order online

Click here to view more books: