Intermix.org.uk is a website for the benefit of mixed-race families, individuals and anyone who feels they have a multiracial identity and want to join us.

Our mission is to offer a view of the mixed-race experience, highlighting icons, film, books, poetry, parenting techniques, celebrities, real lives and much more.

Our online forums are a great place to meet others, ask questions, voice your opinions and keep in touch. Sign up for our monthly newsletter and delve into our pages.

Want to join in? Become an Intermix member to take part:




Kinky Gazpacho: Love, Life & Spain
Lori L. Tharps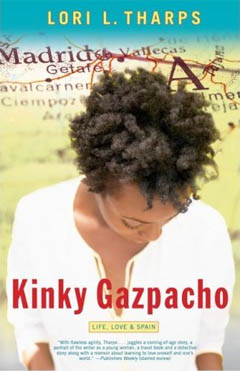 Publisher: Simon & Schuster Adult Publishing Group

Price: £6.99
Magazine writer and editor Lori Tharps was born and raised in the comfortable but mostly White suburbs of Milwaukee, Wisconsin, where she was often the only person of color in her school and neighborhood. At an early age, Lori decided that her destiny would be discovered in Spain. She didn't know anyone from Spain, had never visited the country, and hardly spoke the language. Still, she never faltered in her plans to escape to the Iberian Peninsula.

Arriving in the country as an optimistic college student, however, Lori soon discovers Spain's particular attitude toward Blackness. She is chased down the street by the local schoolchildren and pointed at incessantly in public, and her innocent dreams of a place where race doesn't matter are shattered. The story would end there, except Lori meets and marries a Spaniard, and that's when her true Spanish adventure really begins.

Against the ancient backdrops of Cádiz andAndalucía, Lori starts the intricate yet amusing journey of rekindling her love affair with Spain and becoming a part of her new Spanish family. From a grandmother who spies on her to a grandfather who warmly welcomes her to town with a slew of racist jokes, the close-knit clan isn't exactly waiting with open arms. Kinky Gazpacho tells the story of the redeemingpower of love and finding self in the most unexpectedplaces.

At its heart, this is a love story. It is a memoir, a travel essay, and a glimpse into the past and present of Spain. As humorous and entertaining as such favorite travel stories as Under the Tuscan Sun, this book also unveils a unique and untold history of Spain's enduring connection to West Africa. Kinky Gazpacho: Love, Life & Spain, celebrates the mysticism of travel and the joys of watching two distinct cultures connect and come together.
Kinky Gazpacho: Life Love & Spain by Lori L. Tharps is available to buy now. Click here to buy online:

Click here to view more books: