Intermix.org.uk is a website for the benefit of mixed-race families, individuals and anyone who feels they have a multiracial identity and want to join us.

Our mission is to offer a view of the mixed-race experience, highlighting icons, film, books, poetry, parenting techniques, celebrities, real lives and much more.

Our online forums are a great place to meet others, ask questions, voice your opinions and keep in touch. Sign up for our monthly newsletter and delve into our pages.

Want to join in? Become an Intermix member to take part:




Mix-d: UK. A Look At Mixed-Race Identities
The Multiple Heritage Project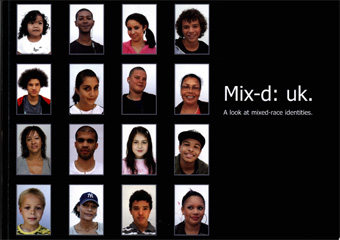 Ahmed Iqbal Ullah Education Trust

Price: £15.00
Mix-d: UK. A Look At Mixed-Race Identities is a book of pictures, personal statements and minimal words.

It is a social document about mixed-race identities. There is no bleating of 'it is wrong', no blaming, no long explanations, certainly no apologies, nor any unnecessary celebrations. It is simply a book about how it is.

Mix-d: uk. A look at mixed-race identities is bought to you by The Multiple Heritage Project. The social enterprise's work across the country aims to make a contribution to the ongoing discussion and remove the awkward silence surrounding an unsettled political topic.

Mix-d: UK. A Look At Mixed-Race Identities by the Multiple Heritage Project is available to buy now, click here to buy direct.
Click here to enter our easy competition and
win a copy of Mix-d: UK. A Look At Mixed-Race Identities