Intermix.org.uk is a website for the benefit of mixed-race families, individuals and anyone who feels they have a multiracial identity and want to join us.

Our mission is to offer a view of the mixed-race experience, highlighting icons, film, books, poetry, parenting techniques, celebrities, real lives and much more.

Our online forums are a great place to meet others, ask questions, voice your opinions and keep in touch. Sign up for our monthly newsletter and delve into our pages.

Want to join in? Become an Intermix member to take part:




The Settlers Cookbook
Yasmin Alibhai-Brown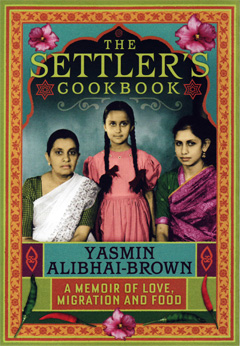 Portobello Books

Price: £20.00
It is now common knowledge that as a parent it is important to pass on elements of your culture to your children. This helps lay strong foundations that will enable children to feel comfortable within their parent's culture. Whilst language and customs are essential elements to pass on, so too are the stories and meals that help bind a family together.

These stories and meals help form our memories of home and many of us will yearn for a particular dish our mother or father cooked, a recipe that will be lost if it is not passed on.
In The Settlers Cookbook A Memoir of Love, Migration and Food, Yasmin Alibhai-Brown has combined the stories of her and her family's journey from India, to Zimbabwe and finally to England, with the meals they have cooked and enjoyed along the way.

Yasmin's journey has not been an easy one but her memories of the meals enjoyed and shared help put things into perspective and weave a picture of family bonding, strength and accomplishment. The recipes included are worth trying we recommend the Perfect Boiled Rice (p38) and Zanzibari Prawns (369).
The Settler's Cookbook: A Memoir of Love, Migration and Food is a great cookbook in its own right but it is also a great read about a life well lived.

The Settlers Cookbook A Memoir of Love, Migration and Food, Yasmin Alibhai-Brown is available to buy now. Click here to buy:
We've got three copies of The Settler's Cookbook to give away
in our easy competition. Click here to enter