Intermix.org.uk is a website for the benefit of mixed-race families, individuals and anyone who feels they have a multiracial identity and want to join us.

Our mission is to offer a view of the mixed-race experience, highlighting icons, film, books, poetry, parenting techniques, celebrities, real lives and much more.

Our online forums are a great place to meet others, ask questions, voice your opinions and keep in touch. Sign up for our monthly newsletter and delve into our pages.

Want to join in? Become an Intermix member to take part:




One Love Two Colours
Bobby Smith & Margaret Oshindele-Smith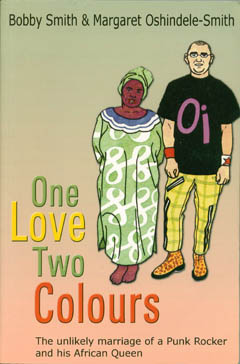 Matador

Price: £9.95
One Love Two Colours: The unlikely marriage of a Punk Rocker and his African Queen is probably the most original book about a mixed-race relationship that you will ever read.

This extraordinary couple take you deep into the craziness of their very ordinary lives. There's no holds barred and both relate their prejudices, peculiarites and penchant for each other with remarkable frankness.

They are two very independant beings who have managed to retain their individuality in marriage, which in itself is refreshing as so many couples become more like each other the longer they are married.

She likes Spicy African Food, he likes potatoes, a lot of potatoes. She's a devoted Christian, he's the opposite. He likes German Oi music and she can't stand it. It would seem they have nothing in common yet they love each other.

One Love Two Colours could be about any relationship because it is about the give and take, the support, the arguments and the making up. You will laugh, cry and squirm but you won't want to put it down. Furthermore you will be inspired by this unlikey couple who tell it like it is.
One Love Two Colours: The unlikely marriage of a Punk Rocker and his African Queen by Bobby Smith and Margaret Oshindele-Smith is available to buy now.
Click here to buy this direct: