Intermix.org.uk is a website for the benefit of mixed-race families, individuals and anyone who feels they have a multiracial identity and want to join us.

Our mission is to offer a view of the mixed-race experience, highlighting icons, film, books, poetry, parenting techniques, celebrities, real lives and much more.

Our online forums are a great place to meet others, ask questions, voice your opinions and keep in touch. Sign up for our monthly newsletter and delve into our pages.

Want to join in? Become an Intermix member to take part:




Wait And See
Tony Bradman & Eileen Browne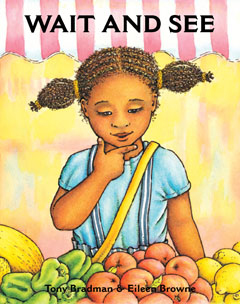 Frances Lincoln

Price: £6.99
Wait And See by Tony Bradman & Eileen Browne.

Once again Tony Bradman and Eileen Browne bring us another important read for children and adults to enjoy together with Wait And See, which follows Jo, a mixed-race little girl and her family, doing what families do.

The story itself introduces children to money both in what it can buy and what happens when you save it. Jo learns that waiting to see what she can buy rather than spending her money at once not only allows her to help her mother send off Granny's birthday present but that being helpful can sometimes bring its own rewards.

Eileen Browne's illustrations bring Jo, her family and the local neighbourhood to life. Eileen captures the different skin tones, hair styles and mannerisms very well. There is so much going on in each illustration that children and adults will find lots to talk about and discuss. The vibrant and colourful neighbourhood that Jo and her family live in portray a world we should all want to be part of.

Wait And See should be one of the first books all children read with their parents.

Wait And See by Tony Bradman & Eileen Browne is available to buy now.