Intermix.org.uk is a website for the benefit of mixed-race families, individuals and anyone who feels they have a multiracial identity and want to join us.

Our mission is to offer a view of the mixed-race experience, highlighting icons, film, books, poetry, parenting techniques, celebrities, real lives and much more.

Our online forums are a great place to meet others, ask questions, voice your opinions and keep in touch. Sign up for our monthly newsletter and delve into our pages.

Want to join in? Become an Intermix member to take part:




In A Minute
Tony Bradman & Eileen Browne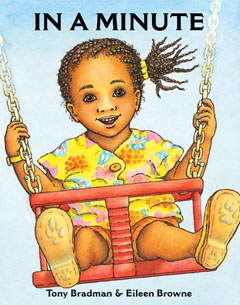 Frances Lincoln

Price: £6.99
In A Minute by Tony Bradman & Eileen Browne follows Jo a mixed-race little girl, her family and the neighbourhood where they live.
In this tale Jo learns about time and waiting when she goes with her parents and her friend Sita to the park. They meet lots of people along the way and Jo and Sita are impatient. When they first get to the park they are disappointed to find the playground is no longer a place for children... that is until they find the new playground.
Parents often say 'in a minute' to their children but what does it really mean? Here Tony Bradman gives children and adults a sense of time and waiting.

The illustrations by Eileen Browne are fabulous and parents and children will love the varied characters that
pop up in Eileen Browne's depictions of the multiracial world Jo and her family live in.

For those who live in predominately white areas this is a good example of the racially mixed neighbourhoods that draw some of us to the big cities. There is a particularly lovely double page spread of a park scene that belongs on a wall for everyone to appreciate. More importantly children get to see positive portrayals of families similar to theirs.

In A Minute is a must for parents who want their children to appreciate all the colours of the world.

In A Minute by Tony Bradman & Eileen Browne is available to buy now.