Intermix.org.uk is a website for the benefit of mixed-race families, individuals and anyone who feels they have a multiracial identity and want to join us.

Our mission is to offer a view of the mixed-race experience, highlighting icons, film, books, poetry, parenting techniques, celebrities, real lives and much more.

Our online forums are a great place to meet others, ask questions, voice your opinions and keep in touch. Sign up for our monthly newsletter and delve into our pages.

Want to join in? Become an Intermix member to take part:




P Is For Poland
Agnieszka Mrowczynska & Prodeepta Das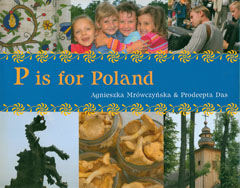 Frances Lincoln

Price: £11.99
From Amber to Chopin, from Borsch to Vistula, this photographic alphabet celebrates everything Polish people love best about Poland.

Set in the heart of Europe and full of lakes, forests and mountains, the country has wild animals which have disappeared from the rest of Europe.

Polish history and folk traditions, its storytelling and cooking all combine to make a special way of life that Polish people take with them wherever they go.

P Is For Poland is a great introduction to the wonders of Poland.

P Is For Poland by Agnieszka Mrowczynska & Prodeepta Das is available to buy now.