Intermix.org.uk is a website for the benefit of mixed-race families, individuals and anyone who feels they have a multiracial identity and want to join us.

Our mission is to offer a view of the mixed-race experience, highlighting icons, film, books, poetry, parenting techniques, celebrities, real lives and much more.

Our online forums are a great place to meet others, ask questions, voice your opinions and keep in touch. Sign up for our monthly newsletter and delve into our pages.

Want to join in? Become an Intermix member to take part:




Samuel Coleridge-Taylor - Composer - (1875 - 1912)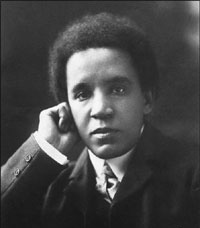 Hailed as the 'Black Mahler', his Hiawatha's Wedding Feast sold out to packed crowds at the Royal Albert Hall.

Samuel Coleridge-Taylor, was born in London in 1875 to Daniel Taylor, a surgeon who came to England from Sierra Leone and his wife a 17-year-old English woman formerly named Alice Holmans.

Before he was ten years old Samuel's father had left his family to return to Sierra Leone disillusioned by a lack of patients in London prepared to be treated by a black doctor.

Samuel and his mother moved to Croydon where a local violin teacher Joseph Beckworth noticed Samuel's talent for the stringed instrument and took him under his wing. Thus began Samuel's initiation into the world of classical music.

Life was not easy for the young boy who was often hectored by jealous students for being different, they nicknamed him 'coaley' and at one time set his hair on fire to see if it would burn. This only caused Samuel to retreat further into his music.

In 1897 Samuel went to the Royal College of Music where his talent for composing was noticed. His difference still hounded him though and fellow students were heard to remark: 'He is not far from being a cannibal'.

Samuel was undeterred and in his second term composed two anthems that were published by Novellos. Music critic Norman Lebrecht wrote in a feature for the London Evening Times and Edinburgh Scotsman. 'Led by Professor Charles Villiers Stanford, young Coleridge-Taylor now dazzled faculty and listeners with original scores, including 'three movements of a symphony for the college orchestra as well as much chamber music for his classmates.' This acknowledgement prepared Samuel when his Hiawatha's Wedding Feast earned him instant international celebrity, though there were still those ready to deny him credit by saying he came by the native melodies innately via his father's ancestry and by calling his music 'barbaric.' Now being hailed as the 'Black Mahler, Hiawatha's Wedding Feast sold out to packed crowds at the Royal Albert Hall.

Recognition for his work allowed Samuel to travel, although he never earned enough to be able to live comfortably. He travelled to the United States several times where he was appalled by the treatment of Black people. He began to find out more about the problems of race in the western world and was greatly influenced by the works of Booker T Washinton, W.E.B.Du Bois and Frederick Douglas all of which were themselves of mixed racial heritage and fighting for equality and better conditions for Black people.
In 1899, against opposition, Coleridge-Taylor married Jessie Fleetwood Walmisley. The couple had a son named Hiawatha and a daughter names Gwendoline who later changed her name to Avril.

Samuel Coleridge-Taylor died aged just 37 in 1912 from a bout of double pneumonia but as his daughter so aptly put it in her biography of him the Heritage Of Samuel Coleridge Taylor: 'A composer is not as other men. For there is a part of him that lives on.'
Read Samuel Coleridge-Taylor's reply to a lecture on 'The Negro Problem In North America'