Intermix.org.uk is a website for the benefit of mixed-race families, individuals and anyone who feels they have a multiracial identity and want to join us.

Our mission is to offer a view of the mixed-race experience, highlighting icons, film, books, poetry, parenting techniques, celebrities, real lives and much more.

Our online forums are a great place to meet others, ask questions, voice your opinions and keep in touch. Sign up for our monthly newsletter and delve into our pages.

Want to join in? Become an Intermix member to take part:




Japan's Not So Pure Anymore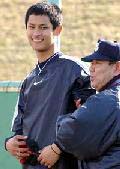 Country's biggest star is mixed-race

Japan's image of itself as a racially homogenous nation has been set back by a mixed-race schoolboy of Japanese and Iranian parentage, who has become the country's biggest star.

Yu Darvish, 18, dominated the news recently when he was signed by the Nippon Ham professional baseball team. Early in 2004 he pitched an entire game without a batsman reaching first base, while representing his school at the national baseball finals.

The Japanese have always regarded themselves as a single race nation. During the 1980's at the height of Japan's fortunes, Japanese even attributed the country's safety, stability and economic success to its homogeneity.

In 1986, the Prime Minister, Yasuhiro Nakasone, said Japan had a higher 'intellectual level' than the US because America had 'Blacks, Mexicans and Puerto Ricans' – a comment that proved controversial abroad but caused barely a stir in Japan.

Darvish's popularity is a sign of Japan's growing multi-cultural society. There are now an estimated two million foreigners among a population of 123 million. Iranians are thought to be the largest portion of this group, though numbers are uncertain because many have no legal status.

During Japan's boom years, Iranians were allowed to enter without visas. Officials turned a blind eye as people from developing countries took the 'dirty, dangerous and hard' jobs the Japanese did not want.

While Japan is still unwelcoming to economic migrants, it has opened its doors to more than a quarter of a million descendants of Japanese immigrants, whose ancestors went to Brazil and Peru in the 1930s. These South Americans make up between five and ten percent of the population in some towns.'

The term for mixed-race in Japan translates as 'half' children. They are an everyday sight and several have achieved prominence. Sprinter Yvonne Kanazawa has an African-American father and actress Rie Miyazawa has a Dutch father.

Japan has also seen a growing number of foreigners take citizenship. The Finnish-born missionary Tsurunen Marutei is now a member of parliament and Alex Santos is the third Brazilian-born football player to represent Japan.

Source halvsie.com, a website highlighting those who have part Japanese heritage.