Intermix.org.uk is a website for the benefit of mixed-race families, individuals and anyone who feels they have a multiracial identity and want to join us.

Our mission is to offer a view of the mixed-race experience, highlighting icons, film, books, poetry, parenting techniques, celebrities, real lives and much more.

Our online forums are a great place to meet others, ask questions, voice your opinions and keep in touch. Sign up for our monthly newsletter and delve into our pages.

Want to join in? Become an Intermix member to take part:




Nate Creekmore's Maintaining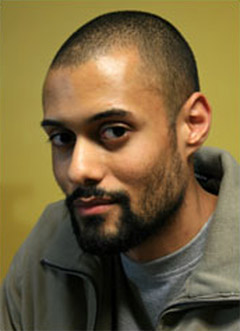 Life through the eyes of a mixed-race teen.

Rather than get depressed Nate Creekmore has always found the way people deal with his racial background to be funny. When he took things to the next level and created Maintaining, a comic strip looking at the oddities of life through the eyes of Marcus, a mixed-race teenager he was amazed at the positive reception it received.

Originally penned twice a week for the student newspaper the strip caught the eye of Universal Press Syndicate, which distributes comics such as Doonesbury and Garfield. The company offered Nate a stipend to spend the next year developing the strip and Maintaining is now featured in local papers across America.

Nate told Intermix.org.uk why he created the strip:
'Essentially, Maintaining is about what it means to be biracial in a society that prefers its people be uniracial. To be biracial is to be a person, so Maintaining is about how biracial people (and their families) are people like everyone else. Even today it is rare to see depictions of biracial people (specifically black/whites) that go beyond the stock 'tragic mulatto' character. I want Maintaining to offer a different perspective that will be recognised by mixed-race people and that will be palatable for everyone else.

What is unique about maintaining is that it comes from a mixed-race perspective. Although Nate doesn't go into details about his racial background, he adds:

'I'll avoid the awkwardly forward 'What are you?' question and let you know my mother is white and my father is black. There are a myriad of terms (some horribly offensive and others less so) to describe the ethnicity of people like me.' .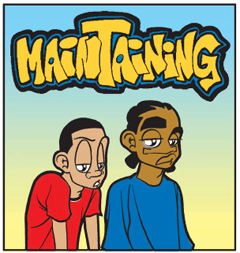 'The main character in Maintaining is Marcus (he's biracial) and early on in the strip, he decides to go with the term Halfrican-American. The strip is loosely based on my own experiences.'

Nate feels comfortable with who he is but recognises that society may still view him differently to how he sees himself:

'I know who I am regardless of what the perception of me might be, ethnically. So while it might be easier for me to just go around and say I'm black, I think that would be wrong on my part, because I grew up with my mother as well as my father.'

'It's sad that you have to choose between the two groups. I don't even think that should be an issue. I have to rise above that stuff. I'm a part of both cultures. I can't be eternally conflicted with myself.'

It's obvious that Nate has given much thought to the mixed-race experience and the main character Marcus reflects that with just the right amount of wit and humour. Maintaining certainly has the thumbs up from everyone at intermix.org.uk and we hope to see it in the UK soon, meanwhile we've managed to get a few samples to give you a taste. Click here to view:
Click here to visit Nate Creekmore's website:
Click here to visit the Universal Press Syndicate and view more samples of Maintaining:
Source:scotsman.com