Intermix.org.uk is a website for the benefit of mixed-race families, individuals and anyone who feels they have a multiracial identity and want to join us.

Our mission is to offer a view of the mixed-race experience, highlighting icons, film, books, poetry, parenting techniques, celebrities, real lives and much more.

Our online forums are a great place to meet others, ask questions, voice your opinions and keep in touch. Sign up for our monthly newsletter and delve into our pages.

Want to join in? Become an Intermix member to take part:




American University Banned Interracial Dating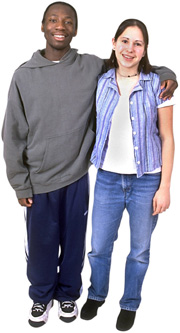 Students still need parental permission.

A private university in South Carolina only recently abandoned its ban on interracial dating then three days later decided students now needed to have written parental permission to have an inter-racial relationship.

For years the president of Bob Jones University had insisted that 'genetic blending', as he referred to relationships between people from different races, went against the Biblical order and was not to be encouraged.

Founded in 1927, the university prohibited black people from enrolling until 1971 when for a period of four years only unmarried black people were allowed to enrol. In 1975, a court decision prohibited racial exclusion from private schools and the policy was changed. A person of any race could apply to the school, but the school adopted a disciplinary rule prohibiting interracial dating or marriage.

Bob Jones is also known to practice homophobia. Two years ago, when a gay, 60-year-old alum asked if he could come back to visit the school, the dean of students wrote back, 'With grief we must tell you that as long as you are living as a homosexual, you, of course, would not be welcome on the campus and would be arrested for trespassing if you did. We take no delight in that action. Our greatest delight would be in your return to the Lord.'

BJU has been visited by President Reagan and George W Bush and also can list evangelist Billy Graham and the Democratic Unionist Party Leader Ian Paisley as recipients of honorary degrees.

The University decided to remove its ban on interracial relationships after George W Bush's visit to the fundamentalist Christian school. The president of the University Bob Jones III, told CNN's Larry King live that 'he met with administrators and decided to end the policy, because "I don't want to hurt the church of Jesus Christ.''

Today the message on the Bob Jones University website shows a picture of a smiling black student and describes itself as a liberal arts, nondenominational Christian university, BJU stands without apology for the old-time religion and the absolute authority of the bible.

To date we can find no proof that BJU has ended its policy of parental permission to have an interracial relationship.
Do you think this is a very Christian act? Click here to leave your view on our forums:


Source: New York Times