Intermix.org.uk is a website for the benefit of mixed-race families, individuals and anyone who feels they have a multiracial identity and want to join us.

Our mission is to offer a view of the mixed-race experience, highlighting icons, film, books, poetry, parenting techniques, celebrities, real lives and much more.

Our online forums are a great place to meet others, ask questions, voice your opinions and keep in touch. Sign up for our monthly newsletter and delve into our pages.

Want to join in? Become an Intermix member to take part:




New Nella Larsen Biography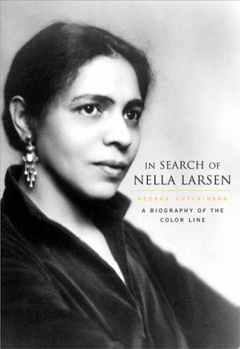 Author paints a more balanced picture.

A new biography of Harlem renaissance author Nella Larsen takes a more balanced look at the life of this talented writer.

The daughter of a Danish mother and West Indian
father Nella became the only person of colour in her family when her mother remarried someone of her own race who she later had a daughter with. By the age of 16, Nella had been banished from the family home and forced to fend for herself. Nella trained as a nurse then made the transition from nurse to librarian to celebrated writer in about six years.
In his biography In Search Of Nella Larsen - The biography Of The Colour Line, author George Hutchinson challenges previous books on the author such as Nella Larsen, Novelist of the Harlem Renaissance (1994), by Thadious M. Davis, and Invisible Darkness: Jean Toomer and Nella Larsen (1993), by Charles R. Larson. He argues that both of these present Nella as a 'tragic mulatto' tormented by her interracial heritage.

George Hutchinson writes. 'As I read these books, I
recognized a pattern not atypical of the way children from interracial families had often been misunderstood and -- there is no other word for it -- pathologized. 'At crucial junctures the evidence seemed lacking and the conclusions unwarranted. . . . [Larsen's] novels supposedly allowed [her] to discharge her feelings of violence against her mother and to achieve a precarious stability through identification with her black father. A black child's psychological identification with a white parent, after all, can only be debilitating, we have been led to believe.'
A recluse by the end of her life, it is thought that Nella was rejected during a desperate last attempt, in the 1960s, to reconnect with her half-sister. As George Hutchinson tells it, Anna Larsen Gardner and/or members of her family reputedly turned the once-celebrated writer away at the door. Told after Nella's death that she was the sole beneficiary of the author's$36,000 estate (about $217,000 today), Anna Larsen Gardner claimed never to have known that Nella existed. In a breathtaking end to a brilliant biography, we are told that Anna Larsen Gardner accepted the cheque.

Nella's novel Passing was raved about by W.E.B. DuBois who said, '[Larsen] explains just what 'passing' is: the psychology of the thing; the reaction of it on friend and enemy . . . . If the American Negro renaissance gives us many more books like his, with its sincerity, its simplicity and charm, we can soon with equanimity drop the word 'Negro.' Meantime, your job is clear. Buy the book.'
In Search Of Nella Larsen - The biography Of The Colour Line is available in the U.S. bookshops and through amazon.co.uk
Source:www.washingtonpost.com