Rae Dawn Talks About Her Father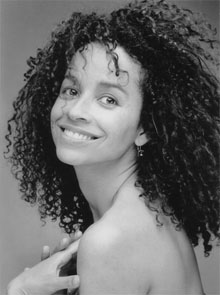 I wanted him to be more of a dad and less of an icon.

For actress Rae Dawn Chong being the daughter of part of the famous Cheech and Chong duo, Tommy Chong, has not always been easy. From an early age Rae's life was engulfed in the celebrity world of her father. 'It was filled with adventure,' says Rae. 'It had tragedy and lots of humor, I wanted him to be more of a dad and less of an icon.'
Famous for his drug culture films with his partner Cheech Marin, Tommy Chong married several times and was not as easily accessible to his children as some fathers. 'It's been lovely on a lot of levels, and painful and just super, super hard on others,' Says Rae.
Her fathers' success also opened doors for Rae and she's built herself quite an acting career with roles in films like Commando opposite Arnold Schwarzenegger, Crying Freeman and The Colour Purple.
Being part of a mixed-race family added further frustrations, Rae's father is of Chinese, Scotch and Irish descent. Her mother is black and Cherokee Indian. 'One of the frustrations of being Tommy Chong's daughter is that my grandfather was embarrassed of being Chinese, I think my grandfather had great racial shame, which was hard on us growing up.' Says Rae.
Rae's paternal grandfather left a very poor, broken home in China to live with an aunt in Vancouver during the '30s and '40s. Then, Chinese-Canadian immigrants were mostly sequestered in a small area in downtown Vancouver and he grew to feel a shame from his heritage.

'It was overcrowded, horrible and difficult,' says Rae. 'I think he aspired to be gaijin, to be white,' he was definitely the opposite of Shanghainese. He wasn't proud to be Chinese-Canadian at all.'
As a result, he married a white woman and did his best to "Westernize." Though his family lived in Chinatown for a portion of Rae's childhood, her grandfather shared little of the Chinese culture with them. Though he spoke fluent Cantonese, he refused to teach any of his children or grandchildren.
'We grew up desperate to know anything about our Chinese culture,' says Rae. Eventually, Rae met extended family who were very proud to be Chinese-Canadian. Later in life, even her grandfather saw the error of his ways and embraced his heritage.
A parent herself to a 23-year-old son, a senior at Brown University Rae says her father was an example of what not to do as a parent. 'I was given the gift and honor to have my baby and be given the responsibility of raising him. I knew my son was going to be priority, more than anything. If it meant a job or an opportunity versus taking care of my kid, being with him or being his mother, I always picked my son first.'
Rae has just finished making Deadly Skies, a made-for-television disaster movie also starring Antonio Sabato Jr. She plays the lead, a scientist trying to save the earth using a super secret military laser to shoot down a giant asteroid about to collide with Earth.
Click here for details of mixed-race film:
Source:AsianWeek.com