Intermix.org.uk is a website for the benefit of mixed-race families, individuals and anyone who feels they have a multiracial identity and want to join us.

Our mission is to offer a view of the mixed-race experience, highlighting icons, film, books, poetry, parenting techniques, celebrities, real lives and much more.

Our online forums are a great place to meet others, ask questions, voice your opinions and keep in touch. Sign up for our monthly newsletter and delve into our pages.

Want to join in? Become an Intermix member to take part:




Thandie Newton - Actress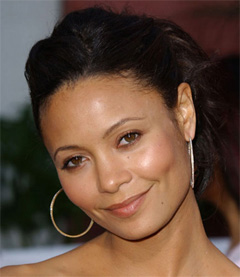 'I used to feel - as neither white nor black, but as a bridge between both.
This BAFTA winning actress is the daughter of a Zimbabwean mother of the Shona Tribe and a British father. Thandie and is married to writer and director Ol Parker and the couple have two children.

What Thandie has to say about Race

'Thandie tells interviewers that one of her fondest memories is watching her mother get dressed in her traditional African garb because it taught her black pride.

'It's funny, but yes. I was recently talking to my brother about what it means to be black, and he gave me a quizzical look, as if to say, 'Hey, this is a bit radical,' because I was taking a very black stance. But he reminded me of how I used to feel- as neither white nor black, but as a bridge between both. Now I see myself as black. There is a side of me that would like to go back to how I used to feel. But then I was looking at my peers. Now I'm looking at the whole world.'
Thandie believes that her career has been influenced by her colour. For example, she has played a slave girl three times (Beloved, Jefferson in Paris, and Interview with the Vampire). When questioned about the repeated requests to assume such roles, she is quick to point to her ability to appreciate the nuances in playing these complex roles as well as to her ability to take on the personal challenge that's involved. 'Get over it. Just look at the films, they're completely different,' she tells herself and others.
Other links for Thandie Newton:
Crash The Movie
Related News: Thandie Receives BAFTA

What do you think about Thandie's comments?
Why not let us know in the forums, click here to visit: