Alesha Dixon - Singer/Songwriter/Presenter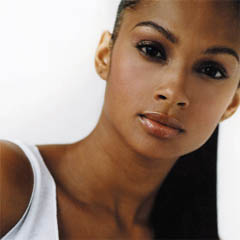 'We like to think we live in an equal society but a lot of the younger generation who are black and mixed-race may still think that life will be a bit more challenging for them.'
Born in 1978 to a British mother and Jamaican father, Alesha Anjanette Dixon is the only child of her mother and father's relationship. Her parents split up when she was just four years old and her father moved away leaving her mum a single parent.
Alesha had considerable success with RnB group mis-teeq and her versatile voice appealed to many. When the band separated in 2005, Alesha went solo, only to be dropped from record label Polydoor after her first two releases didn't reach the top ten.

In 2007 she took part in Strictly Come Dancing and it was to re-launch her career when she beat all the other contestants to win. The success renewed interest in her musical abilities and Alesha was signed to a new record label. This time her album went platinum.
A couple of years later, Alesha was invited back to Strictly Come Dancing as a judge to replace Arlene Phillips, which caused a media stir. She was criticised for her lack of dance knowledge and her leniency, but Alesha took it all in her stride and battled on to become a respected judge on the programme. 'A lot of negativity got thrown towards me, and it's never nice to read nasty things about yourself,' she says.
Alesha is also a patron of the African-Caribbean Leukaemia Trust, a charity that encourages black and mixed-race people to join the bone marrow register and recently climbed Mount Kilamanjaro to raise money for comic relief.
She says she was never encouraged by her Jamaican father to pursue her music career, 'his view was there weren't many black British musicians who were overly successful.' I said, 'Dad, I can't base my decision on what people haven't done'.
Her father now lives in Thailand and although Alesha has contact with him she feels it is important to let people know what it's like to grow up in a single parent household. She recently produced a documentary called Who's The Daddy for the BBC to highlight what its like only growing up with one parent 'I can't imagine not knowing where 50 per cent of me comes from,' says Alesha, 'or not knowing if I've got other brothers and sisters out there,'
So what's next for Alesha? 'I'm thinking about doing a documentary on mixed-race, in light of [US President] Barak Obama It will be great to have a documentary that documents race through the years.' Alesha has been really motivated and inspired by Obama. 'Being mixed-race means he understands both cultures. We like to think we live in an equal society but a lot of the younger generation who are black and mixed-race may still think that life will be a bit more challenging for them.'
'Now, a lot of people will think there's nothing they can't achieve. What can be better than that?'

Source: