Intermix.org.uk is a website for the benefit of mixed-race families, individuals and anyone who feels they have a multiracial identity and want to join us.

Our mission is to offer a view of the mixed-race experience, highlighting icons, film, books, poetry, parenting techniques, celebrities, real lives and much more.

Our online forums are a great place to meet others, ask questions, voice your opinions and keep in touch. Sign up for our monthly newsletter and delve into our pages.

Want to join in? Become an Intermix member to take part:




The Axe Laid To The Root - Martin Hoyles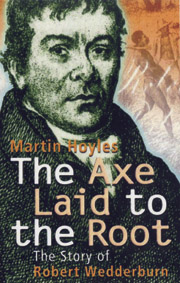 The Story of Robert Wedderburn

Published by Hansib
ISBN 1-870518-98-5
Price £8.99

One of the great campaigners against the slave trade Robert Wedderburn has to date been omitted from history books.
Now Martin Hoyles brings this mixed-race abolitionist to life in Axe Laid To The Root: The Story of Robert Wedderburn

Imprisoned by the British government for blasphemy and branded a notorious firebrand, Wedderburn campaigned vigorously for an end to slavery. Also a preacher he dared to suggest that Christians who supported or tolerated slavery were not in fact Christians at all.

Wedderburn's mother was an African slave transported to Jamaica and his father was James Wedderburn, Scottish heir to a fortune made from the very trade his son sought to destroy. The Wedderburn family in Scotland opposed the abolition of slavery and lobbied for the creation of the West India Docks to accommodate the Caribbean trade in rum and sugar.

Axe Laid To The Root is a short biography of Wedderburn's life and battle to have slavery abolished. It gives details of speeches and sermons given at Hopkins Street Chapel in London's East End where Wedderburn entertained and educated crowds of Britain's working class and slaves.
Click here for more about Asher & Martin Hoyles
Click here for Moving Voices by Asher & Martin Hoyles
Click here for Remember Me, Achievements Of Mixed-Race People Past & Present
Click here for Mixed-Race Icons: Robert Wedderburn
Check out our archives for more adult books:
Back to adult books: