Intermix.org.uk is a website for the benefit of mixed-race families, individuals and anyone who feels they have a multiracial identity and want to join us.

Our mission is to offer a view of the mixed-race experience, highlighting icons, film, books, poetry, parenting techniques, celebrities, real lives and much more.

Our online forums are a great place to meet others, ask questions, voice your opinions and keep in touch. Sign up for our monthly newsletter and delve into our pages.

Want to join in? Become an Intermix member to take part:



Danny Cipriani Talks To Leon Mann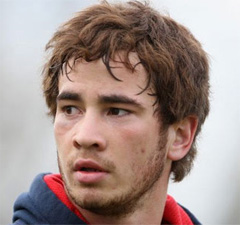 'I feel very mixed-race and that's what I always put down on any forms because I'm very proud of it.'

The England rugby star recently told Leon Mann, 'most people look at me and think I'm Italian or something', but it doesn't take long before his straight talking and confidence clearly convey his West Indian roots. It is the same confidence which has helped to set him apart from his peers. The man tipped to replace Jonny Wilkinson as the golden boy of rugby union is more than a bit special.
Danny's Trinidadian father, Jay, now lives in the West Indies and the England fly half says he is more than familiar with the Islands. 'I spent a lot of my early years in Trinidad. 'I used to go in the school holidays for between six to eight weeks every year to see all my cousins, aunts and uncles. We used to have massive family get togethers and have the best time ever. My whole family on my Trinidadian side is black and I feel very mixed-race and that's what I always put down on any forms because I'm very proud of it.'
Aware of both sides of his heritage, Danny nods his head and chuckles as he discusses having to tick the box labeled 'other' when filling out forms that fail to recognize mixed-race people. He's proud of his background and hopes he and other black rugby stars can attract more members of the community to play the game.
Danny says he owes his success to his parents, particularly his mother, Anne, a black cab driver who worked long hours to find the money to send him to private school.
'If it wasn't for my mum then I wouldn't have gone to the nice school and been able to take part in what I wanted to do. She wanted me to be a doctor and I always wanted to play rugby so that's where we had our slight differences. But I owe her everything.'
Click here to read more Leon Mann interviews:

: