Intermix.org.uk is a website for the benefit of mixed-race families, individuals and anyone who feels they have a multiracial identity and want to join us.

Our mission is to offer a view of the mixed-race experience, highlighting icons, film, books, poetry, parenting techniques, celebrities, real lives and much more.

Our online forums are a great place to meet others, ask questions, voice your opinions and keep in touch. Sign up for our monthly newsletter and delve into our pages.

Want to join in? Become an Intermix member to take part:




James Brown - (1933 - 2006)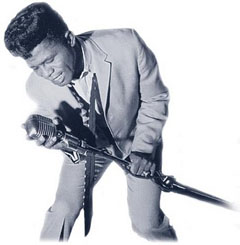 In a career spanning 50 years, James Brown had 119 chart hits from 50 albums, earned three Grammy awards and was a pioneer inductee to the Rock 'N Roll Hall of Fame.

James Joe Brown, Jr. was born on May 3rd, 1933 in Barnwell, South Carolina. His father, Joe Garner Brown was of black and American Indian parentage and his mother, Susie Behlings Brown was of black and Asian parentage.

He nearly didn't make it into this world being a stillborn baby delivered by his aunts. His Aunt Minnie however did not give up after he was born, blowing into his lungs until he finally started crying.

James' parents were very poor, His father made his living selling tree tar to a turpentine company. They lived in shacks without plumbing or electricity in the woods near Barnwell. When James was four-years-old His parents separated and James stayed with his father.

A hard-working man, Joe Garner Brown did his best to raise James. He would work on farms or in gas stations when there was no turpentine work and would also make home brew. He eventually got James' Aunt Minnie to stay with them to help out. The three of them moved across the Savannah River to Augusta so Joe could find a better job. They moved in with his aunt, Handsome Washington, known as Honey. Joe soon left and never lived with James again but was still around.

Honey ran a brothel and sold moonshine. Her grandson, Willie Glenn lived with her. He was a year older than James and they became like brothers. James would steer servicemen to the house, shine shoes, and dance on the street for change. Most of the money he made, he gave to Honey. Around this time, he became interested in music, learning to play the harmonica, piano, and drums from people he met, and would practice every chance he got. The house was eventually closed down, and James and his Aunt Minnie moved into a cottage.

He later met an older kid named Leon Austin who taught him to play the piano with both hands. James started sweeping floors of the Trinity Baptist Church so he could practice on their piano when no one was there. He practiced all types of music, whatever he heard. At eleven, he entered an amateur night contest at the Lenox Theater and won first prize singing So Long.

Besides music, James was into boxing, baseball, and football. James started getting into trouble around the age of fifteen and soon ended up in prison but his good behaviour and
dedication to music eventually helped him secure early release.

Despite his humble beginnings James Brown went on to become a prolific singer, songwriter, bandleader, and record producer, He was a seminal force in the evolution of gospel and rhythm and blues into soul and funk and he also left his mark on numerous other musical genres, including rock, jazz, reggae, disco, dance and electronic music, afrobeat, and hip hop music.

In a career spanning 50 years, James Brown had 119 chart hits from 50 albums, earned three Grammy awards and was a pioneer inductee to the Rock 'N Roll Hall of Fame.

He also played a significant role in civil rights and the Black Power movement. Martin Luther King Jr.'s 1963, 'I Have a Dream' speech laid bricks on the path to civil rights. When rocks and riots became the response to King's assassination, James Brown kept Boston calm by refusing to cancel a concert performance. Instead he had it televised and delivered a message of peace. He encouraged people not to react to their pain and anger by destroying their own communities. His song Say It Loud -- I'm Black and I'm Proud gave many the confidence to stand tall. James himself said 'I clearly remember we were calling ourselves coloured, and after the song, we were calling ourselves black.'

The Godfather of Soul as he was sometimes named never forgot what it was like to be poor and regularly gave to those less fortunate than himself. His turkey giveaway, provides meals for more than 1,000 families each year and he also hosted an annual toy drive that brought in Christmas gifts for hundreds of needy children. He had participated in the latest toy giveaway just three days before he died.

Augusta, Georgia named a street James Brown Boulevard a decade ago and last year erected a statue of him in a downtown park nearby. Earlier this year, the city's main auditorium was named in his honor.
James Brown died of heart failure on Christmas morning 2006 in Atlanta while hospitalised for pneumonia. He was 73.

Related news story: The Godfather of Soul Bows Out
Nine things you may not know about James Brown